Attractions: Seawolf Park on Galveston Island, Texas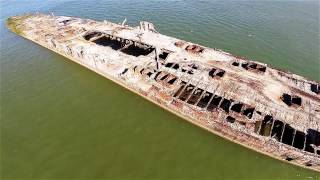 SS Selma - Seawolf Park, Galveston Texas
USS Cavalla: Lucky Lady's Famous First Patrol
Attractions: Seawolf Park on Galveston Island, Texas

Seawolf Park features the USS CAVALLA (WWII Submarine) ; the USS STEWART (destroyer escort - one of only 3 in the world); a Fishing Pier ; and a Playground. The park was built on an immigration station site and offers a view of Galveston harbor, picnic sites, and a lighted fishing pier. Seawolf Park is available for company picnics, school field trips, and private parties.

SS Selma - Seawolf Park, Galveston Texas

During World War 1 steel was in short supply so the United States experimented with concrete ships. Completed in 1919 it hit a jetty in 1920 ripping a 60ft gash in its hull. It was then towed to Galveston, TX for repairs. Since no one had experience repairing concrete ships a decision was made to scrap her in Galveston bay where she has been ever since.

USS Cavalla: Lucky Lady's Famous First Patrol

On her maiden patrol Cavalla, en route to her station in the eastern Philippines, made contact with a large Japanese task force on 17 June. Cavalla tracked the force for several hours, relaying information which contributed to the United States victory in the Battle of the Philippine Sea (commonly known as the "Marianas Turkey Shoot") on 19 -- 20 June 1944. On 19 June she caught the carrier Shōkaku recovering planes, and quickly fired a spread of six torpedoes for three hits, enough to sink Shōkaku at 11°50′N 137°57′E. After a severe depth charging by three destroyers, Cavalla escaped to continue her patrol, with relatively minor damage by depth charges of Urakaze. The feat earned her a Presidential Unit Citation.